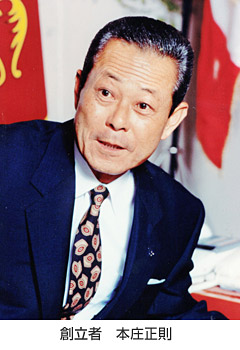 In his lifetime Mr. Masanori Honjo worked to turn ITO EN, LTD. into a hundred billion dollar company, and played a pivotal role in the development and sales of a range of ITO EN's hit product lines in the highly competitive beverage industry. These include oolong tea, the canned green tea line Oi Ocha, and the vegetable beverage line Jujitsu Yasai. He also spearheaded the company's efforts to establish the unsweetened beverage market in Japan.
In his time, he helped ITO EN to become the leading company in the green tea industry and develop into a comprehensive beverage manufacturer. Today ITO EN boasts an extensive product lineup, featuring the three mains teas enjoyed around the world (green tea, oolong tea, and black tea), as well as vegetable and fruit beverages, coffee beverages, and much more.
On December 25, 1996, he used all of his own individual assets to found the Honjo International Scholarship Foundation.
◆Career
Mr. Masanori Honjo was born in Kobe City, Hyogo Prefecture, on April 25, 1934.
After graduating from the School of Law I, Waseda University in March 1959, he joined Tohto Nissan Motor Co., Ltd. and became a salesman.
In August 1964, he founded Japan Family Service Co., Ltd.
and served as the executive managing director.On August 22, 1966, he founded Frontier Tea Corporation, ITO EN's predecessor, with his younger brother, Mr. Hachiro Honjo (current ITO EN's chairman), and served as the executive managing director. Located in Shizuoka City, the primary purpose of this venture was to produce and sell green tea, which is Japanese traditional beverage.
In May 1969, Frontier Tea Corporation changed its name to ITO EN, LTD., and he served as the president and representative director.
In August 1979, the company signed an import agency agreement with China to become Japan's first importer of oolong tea, and quickly made oolong tea leaves popular throughout the country.
In February 1981, ITO EN succeeded in developing the world's first canned oolong tea, thus creating the unsweetened beverage market, which at that time was an entirely new market.
Furthermore, in February 1985, the company successfully developed a canned green tea, a feat that was considered to be technologically impossible, and helped to pioneer the unsweetened tea market. 
In May 1988, Mr. Masanori Honjo became ITO EN's chairman and representative director.
In 1989, the Oi Ocha line of canned Japanese tea became a major hit and instantly raised recognition of the company.
In May 1992, the company went public on the over-the-counter market.
On September 30, 1996, the company was listed on the Second Section of the Tokyo Stock Exchange.
In 1997, he became a vice chairman of the Tokyo Chamber of Commerce and Industry.
In October 1998, the company was listed on the First Section of the Tokyo Stock Exchange.
Mr. Masanori Honjo died of respiratory failure in Tokyo Women's Medical University Hospital at 6:09 a.m. on July 22, 2002. He was 68.